2023 - Four Sold Out Shows and Huge Critical Acclaim
2023 saw history made - the first ever UK visit of Córdoba Ecuestre from The Royal Stables of Córdoba, global superstars Frédéric Pignon and Magali Delgado and more! An epic celebration of the breathtaking horses, culture and heritage of Spain and Portugal through sport, art and entertainment. Dazzling, passionate and inspirational - it will live in hearts and souls forever. Production photography by Aga Karmol and Ash Piper. Scroll down for 2023 reviews and images,
28th August - 1st September 2024, Westpoint Exeter, Devon - Save the Date!
Festival Fine Art and 2024 Tickets On Sale NOW!
What Visitors Said - Reviews Carousel 1 of 4
Sublime
Absolutely sublime. We loved it. We look forward to next year to come see you guys again. Safe journey home to all
The essence of Iberia
Fantastic achievement! You really captured the essence of Iberia this year as well as our wonderful horses! I loved the 4 Flamenco dancers who did the routine with the wooden staffs, such precision and skill. Thank you for all your hard work and effort
Touches Your Soul
Absolutely amazing and beautiful show, spellbinding, profound touches your soul, unforgettable and magical experience
A wonderful spectacle
Ash Piper's picture has captured one of my favourite parts of the show. Córdoba Ecuestre showed such skill, power, grace and passion, the flamenco, the horsemanship and of course the horses themselves! A wonderful spectacle that will stay with me
Truly spectacular
What an amazing experience. Truly spectacular show, thank you
Breathtaking
Thursday evening was honestly breathtaking. Your entire team should be so proud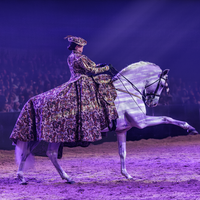 Wonderful
Thank you it was wonderful
Brilliant
Brilliant show, enjoyed every minute!
Inspirational riders
An amazing show, beautiful horses, inspirational riders and a great venue
Emotional
Loved our visit on Sunday! Beautiful and emotional. Best wishes to all the people and the wonderful horses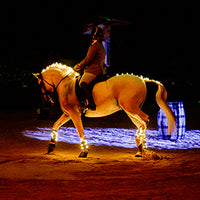 Great atmosphere
We had a great time, the show, food, drink, shopping, great atmosphere
Superb
What a wonderful show, superb performances!!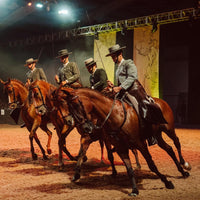 Absolutely incredible Horses
Loved the Friday evening show. Absolutely incredible horses and horsemanship
Brought tears to my eyes
An amazing evening loved every minute and as others have said one particular performance brought tears to my eyes. Well done to all concerned and see you next year.Thank you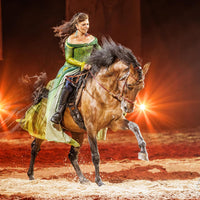 Such Passion
Yet again breathtaking, even better than last year. Such beautiful horses and such passion.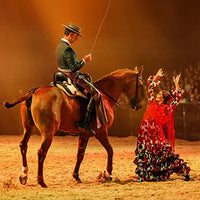 Absolutely incredible
Loved the show every minute of it, absolutely incredible. We were there the first night and it didn't disappoint
Beautiful, beautiful horses
Made me cry; made me laugh...beautiful, beautiful horses and so glad I got to meet this elegant, soulful beauty at the end
Tears of joy
Absolutely incredible show. Brought tears of joy to my eyes. Thank you
It truly was amazing
Amazing show. Our family had the most amazing day on the Sunday matinee. Well done to all those who put this show on, it truly was amazing
Thoroughly enjoyed
We thoroughly enjoyed the show, thank you so much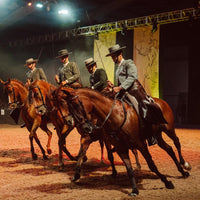 Just beautiful
This was the best bit of the show for me. The Doma Vaquera horses were just beautiful- so light and happy in their work
Definitely going again
It was so amazing, absolutely loved our day and evening there on Friday. Will definitely be going again next year
Awesome show
Congratulations for running such an awesome show and filling all those seats!! I really enjoyed the matinee today after competing yesterday.xx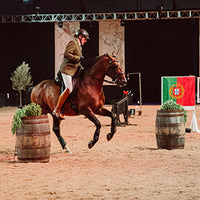 It was amazing
We went on Saturday night. It was amazing the whole show. Thank you all. See you next year xxx
Roll on next year
It was so very great 2nd year in a roll xx roll on next year xx
Can't wait to come again
Absolutely Incredible Evening we loved it and can't wait to come again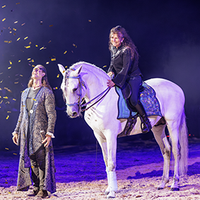 Magical evening
Magical evening creating a wonderful experience
Moved us to tears
Loved every moment, moved us to tears at times. Looking forward to seeing you again next yea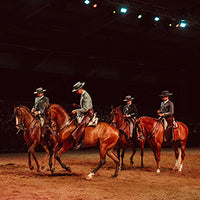 Amazing show
We went on Friday night, Amazing show better than last year, also great food stalls to enjoy beforehand. Well done
Magical day
Brilliant show awesome and so beautiful I had a magical day thank you to everyone involved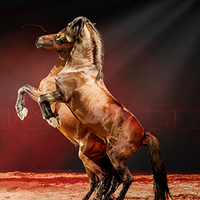 Mesmerising and moving
Simply Superb. Thursday night show was mesmerising and moving. Well done to the whole team for an amazing production which will long remain in our hearts and minds
Loved it
Loved it beautiful and will love to see it again thank you for travelling to us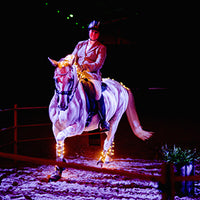 Truly unbelievable
Fantastic a truly unbelievable show
Frederic Pignon topped it
What a great late birthday present four days down westpoint Devon county show ground seen lots of tremendous displays over the years and that was one of the best. Frederic Pignon topped it
Skiĺl passion intrigue
Skiĺl passion intrigue so much emotion from the artist with so nany horses. Unforgettable
Unforgettable
Thank you for all your showmanship and hard work and the same to all of the horses of course !! Saturday evening was unforgettable XX
Absolutely stunning
I bought tickets and drove my Mum (79) from Dorset to see your show, with in 30 seconds we were both in tears, absolutely stunning! The connection between horses and owners absolutely beautiful, well done all round, absolutely loved our time shared with you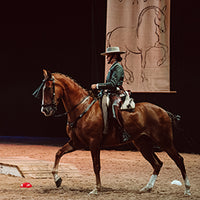 Amazing
Thank you for a wonderful show, it was amazing
Incredibly memorable
Amazing, Thankyou for an incredibly memorable evening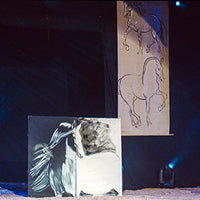 Incredible show
What an incredible show it was amazing to watch all the super stars
Wonderful experience
Thank you for a wonderful experience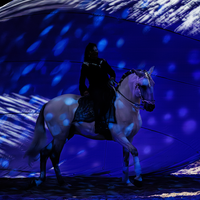 The lift I needed
This was the lift I needed to watch this amazing show of horsemanship passion and work put in by everyone, with so much pleasure in what they do
Costumes were heavenly
Absolutely stunning, beautiful riding, beautiful horse and the costumes were heavenly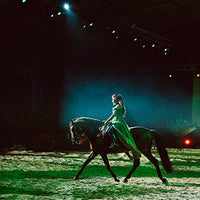 Thank you everyone
It was amazing the sound and lighting was fantastic and really set the atmosphere. Thank you everyone for making it possible
The show was fantastic
The show was fantastic, well done. Wouldn't want to miss any of it... Couldn't have been done better. XXX
Highly emotive
Brilliant performance and highly emotive watching the beauty of the horse and their interactions with Frederic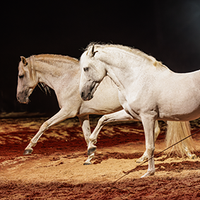 Magical
Absolutely breathtaking and magical
Special experience
Thank you to everyone involved for such a special experience can't wait until next year.x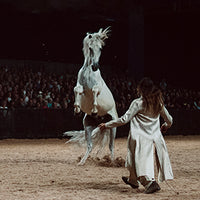 It was breathtaking
t was one of the best things I have ever seen -I was there on Saturday and watched the evening show and it was breathtaking x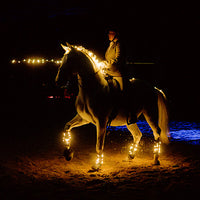 Tears of joy
Feeling so grateful to have spent the First and Last days of the show with these magnificent, Magical and truly Breathtaking Horses. The beauty of these Awesome creatures and the bond between them and their Human Companions is palpable. I actually shed tears of joy. An experience I will NEVER forget.
Iberian Inspiration
The influence and inspiration of the Iberian horse is infinite. The horses of Kings, Queens and warlords, the first choice of Hollywood Directors and mesmerising muses for artists throughout time. From herding cattle across the Iberian peninsula to versatile competition horses, their huge hearts and talent creates success in all spheres. The bloodlines of the horses of Spain and Portugal are as powerful as ever and can be traced back over with hundreds of years go history, the impact on other breeds all over the world is significant.
Telling the story of the Iberian horse within a rich tapestry of art, sport, learning and entertainment is our mission and passion. We cannot wait to bring their story to life again through the most beautiful equestrian production you will see in 2024. It's a home grown South West show now in its 11th year. You'll love the complete cultural experience - you can also look forward to Fado, Flamenco, tantalising tapas, plenty of Paella, workshops, meet and greets, carriage rides, daytime demos and more! Save the date 28th August - 1st September. Lots of exciting news coming soon, tickets and Festival fine art on sale 1st December.